Cloud Accounting and Business Solutions
Cloud Accounting is a fresh new approach to gain control of your business. This area is an exciting evolution for the accounting industry/business owners and we are totally InTouch with this movement. The reason why so many small to large businesses are turning to 'cloud solutions', or commonly referred to as 'the cloud', is because it brings numerous benefits and could just give your business that competitive advantage it needs.
Benefits of the Cloud Solutions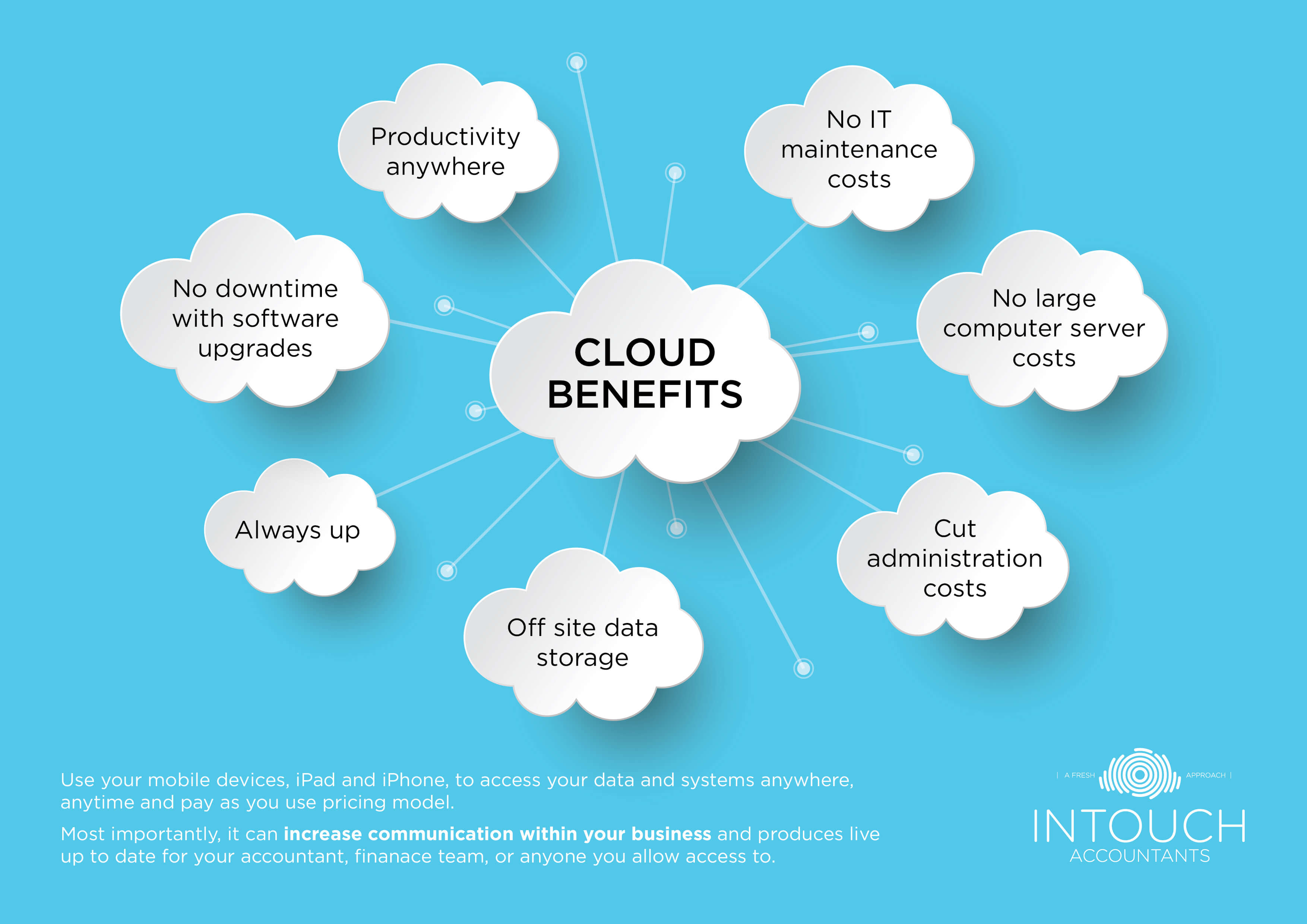 In its simplest form, it means using the internet to gain access to your business's systems, programs and data.
An example of a cloud solution could be to move your desktop based accounting program (eg MYOB, Quickbooks) to a cloud based program such as Xero. Instead of 'double clicking' mouse on a desktop icon eg , you would go to www.login.xero.com , enter your username and password to gain access to your accounting records such as invoices, debtors, payroll, bills, bank transactions etc.
Other common cloud solutions you could employ for your business are-
Point of Sale (POS)

Employee Time Management (ie staff allocate their time to jobs/tasks, which flows to payroll)

Documents and Data Storage (paperless office solutions)

Advertising purposes
Inventory Control

Practice/Job Management

Payroll and HR

General business management tools, often industry customised
Xero is a cloud based solution used to manage your accounting and taxation needs. InTouch believe this is the perfect stepping stone to your cloud experience.
Click here for benefits of the program
We encourage our clients to use Xero so we can easily perform or assist with your bookkeeping duties, payroll, management reports, business activity statements, tax returns and more.
We understand business's need varying degrees of support, so we tailor fixed priced packages specific to your business needs. We can be your Virtual CFO to bookkeeper, to just Tax Agent whereby your staff members do processing of transactions.
InTouch are a certified Xero advisor, and are perfectly poised help you gain financial control of your business.